spectra gives insight into synaesthesia, a fascinating phenomenon where the trigger of one sense simultaneously and involuntarily triggers a second sense: music opens a space full of colours, the number four is orange and the touch of velvet tastes like nutmeg. spectra evolves around the individual processing of information received by the senses and celebrates the uniqueness of the perception of each individual. The film is inspired by the director's research into the relationship between synaesthesia dance and embodiment and her intention to promote diversity in society by the example of synaesthesia.
Awards
Jury Award – NEWCOMERAS AWARD @ 1st INTERNATIONAL SCREENDANCE FESTIVAL Freiburg 2019
Official Selection Biennal Edition 2018 WomenCineMakers
shortlisted for Light Moves Outstanding National/International Student Work award 2017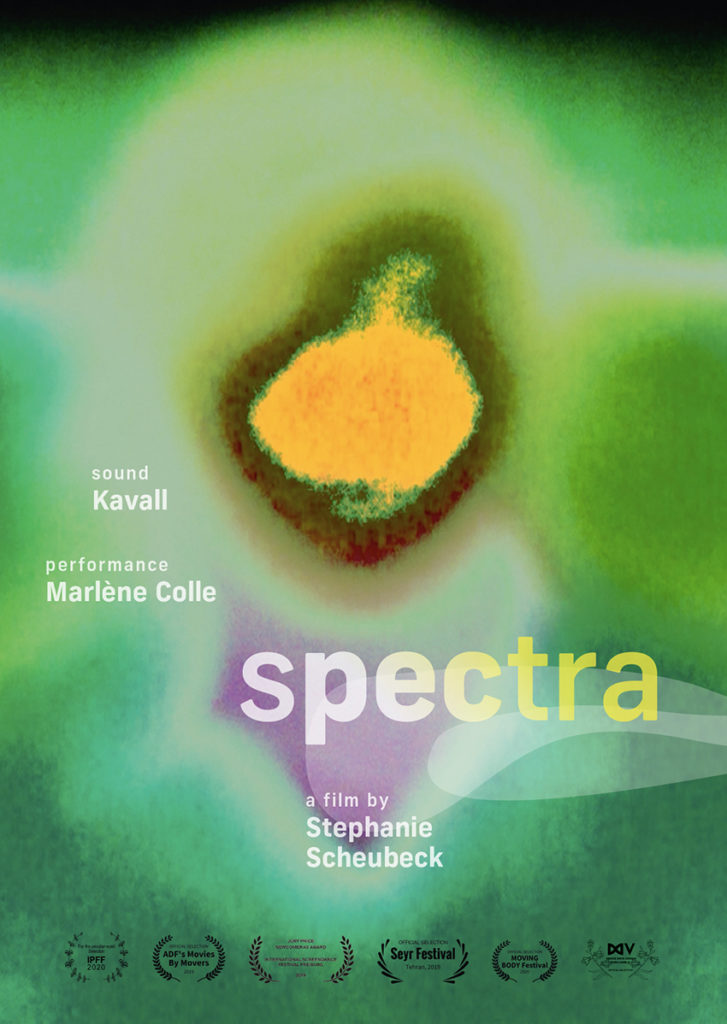 director & choreographer
Stephanie Scheubeck
performer & choreography
Marlène Colle
camera & edit
Stephanie Scheubeck
sound
Attendance at Light Moves Festival of Screendance 2017 supported by Goethe-Institute Ireland.

screenings
2020
2019
Seyr Festival Teheran (IRN)
2018
Evolve on Screen – Platform for Emerging Artists / Bath Spa University (UK)
Dance Screen Space – Screendance Symposium Bath Spa University (UK)
The Golden Mince Pie Award / Bath Spa University (UK)
2017
year of production
2017
duration
04:23 min.
format
.mov
video norm
PAL
colour
yes/ HD (1-1-1)

sound
stereo
screen format
16:9